Top 5 Industries to Work for in the Philippines
August 16, 2016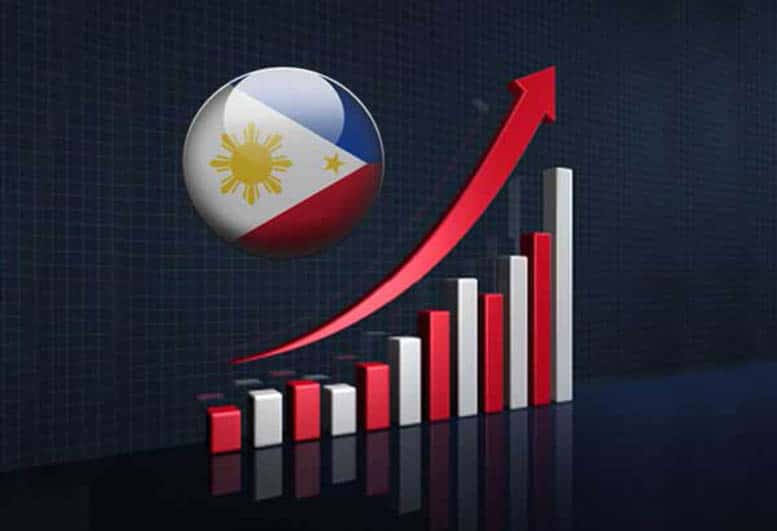 The Philippines is experiencing a huge economic boom. With the wake of the global recession well behind us, it has turned the Philippines into one of the biggest players in the Southeast Asian economy. But, which industries are gaining the most, and which one should you look at for a rewarding, well-paying career in the country? After much research, top executive recruitment firm, IES, shows you job opportunities in the leading 5 industries today.
1. Business Process Outsourcing
The industry that has pretty much defined the sharp growth of the country's economy, BPOs, generating roughly 11% of the country's GDP, continues to be the tiger industry of the Philippines. They're always hiring, and there is no shortage of choices for candidates.
Among the top players are Accenture, Inc.;, Convergys;, Hewlett-Packard AP;, and Teletech Offshore Investments B.V., all squeezing in billions of pesos in revenue into the Philippine economy. Also, TESDA offers training courses for those willing to take the BPO track, so you won't have any trouble getting a job in this sector.
2. Shipbuilding
A long-standing industry with an illustrious history in this seafaring country, the shipbuilding industry is steadily growing, especially with the Chamber of Commerce of the Philippine Islands (CCPI) likely backing many shipyards to further develop the industry. Aside from that, the aerospace industry is gaining ground as well, with foreign investors flock to the country to take advantage of the relatively cheaper labor. There's no better time to join than now.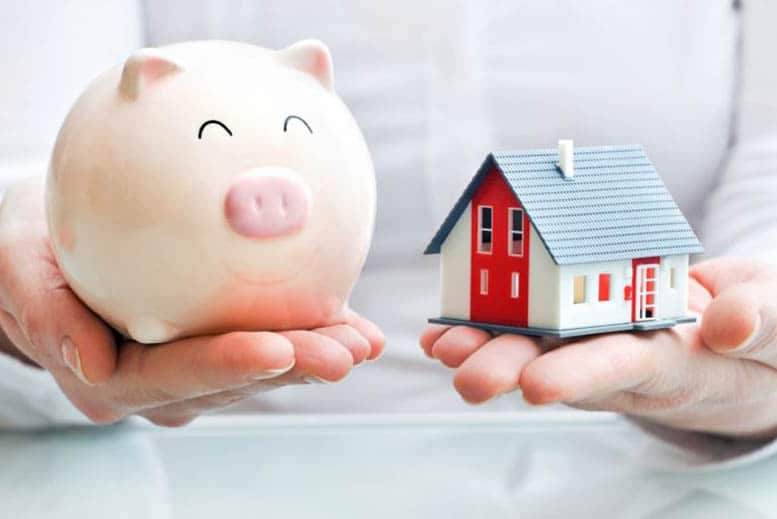 3. Real Estate
With the growth of the economy comes a higher demand for living spaces, giving the real estate industry a boost as well. New homes are constantly being built left and right, in and out of the metro; giving new players lots of room to squeeze into. Certification courses are easy to get into, and are difficult enough to give you a new challenge.
4. Hospitality and Leisure
Filipinos are rightly known for their warm hospitality, and what better way to propagate that stereotype than a job in the hospitality and leisure industry? Tourism is a booming industry in the Philippines, given that it's a premiere tropical destination due to its thousands of miles of beautiful coastline. And when tourists come, hotels, hostels, and transient houses rise up, opening a flourishing industry for many Filipinos.
The government is planning to attract at least 10 million tourists by the year's end, so why wait now? Jump in and make a career here!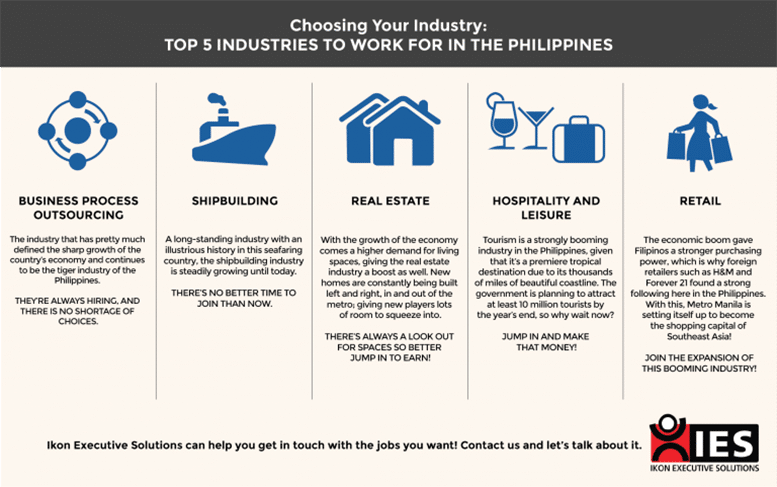 5. Retail
The economic boom has given Filipinos stronger purchasing power, which is why foreign retailers such as H&M and Forever 21 have found a strong following here in the Philippines. Metro Manila is setting itself up to become the shopping capital of Southeast Asia, and investors are very positive that this industry will be making more waves than it already is.
More and more boutiques and retail-tainment concept stores are popping up in malls nationwide (which in turn are also growing like mushrooms in major cities across the Philippines.) There's no shortage of space, and consumers are always on the lookout for new and exciting concepts. There's no better time to start in retailing than today!
More and more industries are gaining ground in the Philippines. Short of starting your own business, the road to success is paved well ahead of you; all you need to do is start the engine and drive your way there!
And don't forget: IKON Executive Solutions (IES), Philippine's top headhunter, can help you get in touch with the jobs you want! Contact us and let's talk about it.