Effective Hiring Strategies to use in 2018
November 29, 2017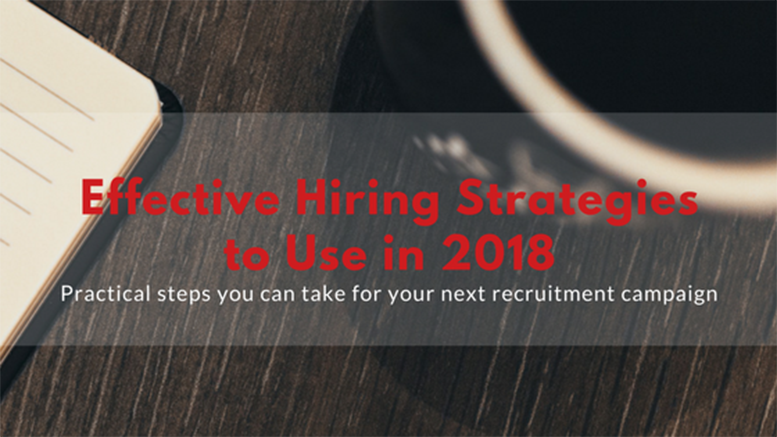 First impressions do count. Remember that good candidates also need to be convinced to work for your company. The recruitment and interview process is a prospective employee's first impression of your company. It is a reflection of a company's culture and brand personality. Making a good impression from the start is an important way to attract the right people to join your company. According to Forbes, great candidates want to work in a company that understands, challenges, excites and delights them. They can work hard, play hard and feel appreciated.
What are the latest effective hiring strategies that you need to know for 2018? How are you capitalizing current hiring needs and recruitment insights? Here are some important strategies that can help you find and attract top talents:
1.  Carefully outline the job
Before you even sit down and begin interviewing applicants, make sure you know the nature of the job and have a list of all the tasks that need to be performed. Rather than trying to fill an open position with the best applicant, your aim should be to find the best applicant for the job. Make a list of the qualities and attributes of the ideal employee so you are sure of who and what you are looking for to fill the position.
2.  Your best applicant may be close by
Before you begin hunting outside with expensive advertisements and job search engines, it is important not to forget the people already working in your organizing. Providing opportunities for current employees for further development or a promotion can be a great motivator. The added advantage is that the person is already familiar with the culture of the organization which can also give greater stability. All properly maintained personnel records can be a major resource in helping you find a candidate from within.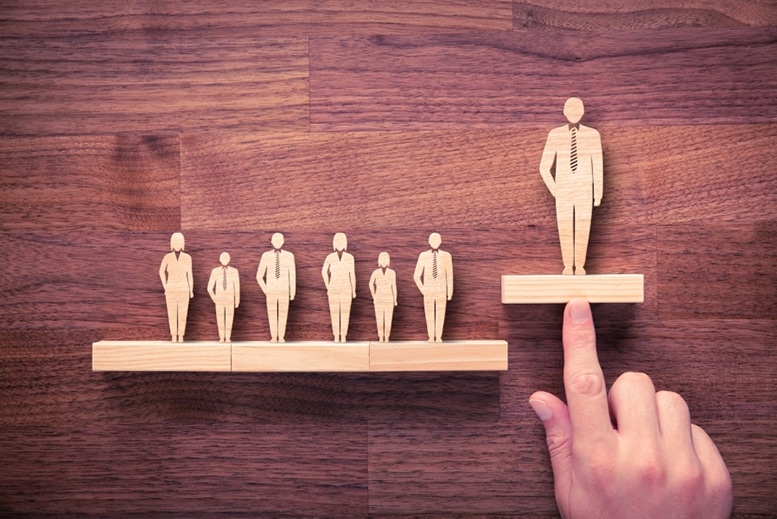 3.  Getting referrals
Should you need to look outside to fill a job, your strong networking skills are important for finding the right person.
Pick up the phone and start getting referrals. There is no substitute for good old fashioned conversation. The men and women who work for you are also an excellent source for getting people like themselves. Many of them have friends from previous jobs who may be prospects for your open positions. Some years ago, Forbes Magazine reported that at least 20% of new hires in their list of "Hundred Best Companies To Work For" came from recommendations from employees. You can even get referrals from clients and friends.
Of course, there are also many other social networking sites and even your own website that you can use to find the right candidate.
Leverage the power of your LinkedIn and other professional networks. When you ask your contacts for recommendations, don't blast an announcement, target who your ideal candidate is and then ask your ideal candidate for people within their network who they think might be interested in exploring a career opportunity. Ask to be introduced. Allocating some time to meet 'passive' candidates is an effective way to recruit top talent. While they may not be looking for a job at the moment, they might consider after hearing about the job from you or might be able to refer you to people they trust who fit the bill.
4. Recruitment is a two way process
Determine why someone who is in demand all throughout the industry would like to work for you. Unless you are a company that pays much more than your competitors for someone with the same skills why would the top quality candidate want to work in your organization? What are you offering your employees that your competitors, especially the larger ones, aren't offering? You must ensure you provide comprehensive information on your company, its performance, philosophy on people development and how new recruits could progress their careers with you. You need to sell your company to them as much as they need to sell themselves to you.
5.  Recruitment method
Hiring is extremely costly. Your objective is to fill an open job as quickly as possible with the best qualified applicant at the lowest cost. Reading resumes; interviewing applicants; checking reference and related work can be a waste of your time and many of your other duties may need to be neglected. Employment agencies like IES can cut down on the time needed to find the right person.
Here are some tactics for your next recruitment campaign:
1.  Keep an eye on advancements in talent acquisition automation; see how data and insights can help you identify top talent already in your database.
2.  Look out for hiring technology tools that allow greater flexibility in mobile recruiting; creating unique mobile experiences for candidates can set you apart from your competition for talent.
3.  Create a larger target for your social job ads. Today's workforce are device-and-digital first natives. A lot of the visibility you can create for your job openings should be in social media channels frequented by your target audience or applicants.
4.  Consider using different recruiting videos. The more realistically it promotes your company and culture, the more attractive it is to prospective candidates.
IES's extensive database can make the process less time consuming, costly and frustrating. IES can save you money and time. We have files of pre-screened qualified applicants who can be referred to you immediately. This saves you the time and energy of reading countless resumes and interviewing unqualified applicants. Building an ongoing relationship with IES gives you the added advantage of having us inform you about highly qualified candidates who become available even when you do not have an immediate opening. IESdoesn't charge you a fee unless you hire the person and that person starts work with you so there is no risk on your part.