How to Promote Teamwork at Your Workplace
May 30, 2017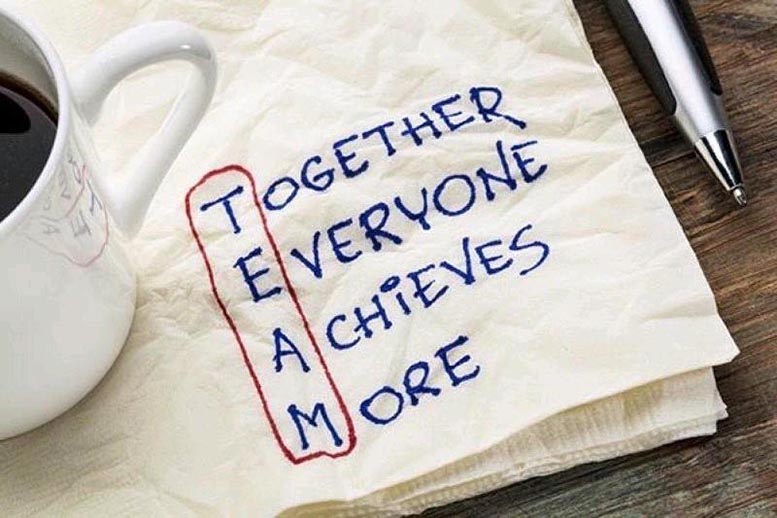 What you can do alone, we can do better together. Crusoe, marooned on an island, teamed up with his dog. In professional sports where each player is individually assessed according to his own special skill, intense teamwork is a must for any chance of success. Similarly, at work, it's a cohesive team striving towards a common vision that gets the work done. Successful team leadership is determined by the ability to create a cheerful and bright environment which promotes high morale and where each employee is willing and eager to work in collaboration with everyone in the group.  It is only through effective teamwork that it is possible to reap great harvests both for the team leader and the organization.
As a team leader, good teamwork can be promoted by enabling every member to feel counted and motivated enough to come forward with individual inputs.  Making every team member feel important is therefore critical to lead your team successfully so that everyone shares the same passion to achieve the desired results. It is the encouragement of individual ideas that combine to make the team succeed. For good team management, keeping all members fully informed on all aspects of the project will not only get everyone involved but will also make all jointly and severally responsible for the success of the project.
To establish a sense of purpose in everyone, invite suggestions and never ignore or put down inputs without discussion as that would be demeaning, demoralizing and counter-productive.  It is necessary not just to recognize the team's hard work and successes but also reward the successes of the outstanding individual team member. Delegating responsibility displays your trust in a team's capabilities and skills and allows them to build self-confidence and boosts teamwork.  Eliminate unbalanced task allocation among team members so that no member feels overly pressured, or builds a grouse over unfair work distribution.  Maintaining some flexibility to adjust plans and tasks according to changing circumstances is also important.
Here are some simple measures that will help you create team synergy and energize mutual cooperation:
Create Roadmaps By Objectives
Lay down a clear easily understandable roadmap and define the objectives logically in order to create a solid foundation for successful team building.  Set goals in consultation with team members and develop strategies together.  Employees will truly feel like a part of the team if they play an active role in charting the course of the project and how you propose to achieve your company's goals and objectives. When a team is able to work towards a common goal, everyone is attuned or attentive to varying opinions. Everyone is more understanding towards each other. This is a key factor for building a strong collaborative work environment. Define your goals and make sure that each member of the team understands their individual contributions and accountabilities throughout the work process to achieve the desired team results. As John C. Maxwell puts it, "teamwork makes the dream work."
Maintain An Open-Door Policy
Establish a frank, honest and open atmosphere in which people aren't afraid to communicate. Promote good communication skills among team members through use of various team-building exe
rcises to enable each member to become familiar and closer to one another through sharing of personal lives and backgrounds. Encourage mutual bonding among team members with group recreational activities. Openness and transparency is cultivated from the top-down. When leaders encourage team members to share their thoughts, feedback and opinions on matters they deem important, it promotes a sense of belonging and creates a workplace that's free of rumor-mongering and trust problems.
Involve All In Problem-Solving
Involve all team members with regular brainstorming team meetings, acknowledging successes and analyzing reasons for failures to reach goals collectively.  Resolve any impediments or complaints of team members to remove friction in the team, and avoid wasting effort arising from duplication or overlapping of work.  Empower your team by inviting feedback from each member and hear out their inputs as worthy of consideration. Leading productive meetings and employing a strong documentation and follow-up system for agreed upon action steps and task dependencies make leaders stay on the same page with employees. Therefore, there is less or no interruptions in workflow.
Recognize & Reward
Be liberal with compliments and let them know that you appreciate their work. Always show sensitivity to individual embarrassments by avoiding public reprimand; hold private review sessions for failures.  Conduct regular one-to-one performance reviews for improving employee performance, informing every team member of their strengths and weaknesses and tweak their efforts for better future output.  Acknowledge each team member's comments and provide constructive feedback as appropriate. Make recognition personal and tie up meaningful rewards with work performance. That is one way to drive team's achievement of goals.
Display Enthusiasm
Your cheerful enthusiasm can remove drudgery and it will catch on.  If the leader is positive, upbeat and hopeful of expecting great things to happen, your team members will do that extra bit not to disappoint. Whether you are holding an annual employee appreciation event or giving spontaneous thank you tokens in the middle of a challenging project, employees remember fun times. Socializing and spending time to energize members of your team to achieve project goals adds spontaneity and the personal touch ingredient that the team will not just appreciate but it will also boost their morale.
Initiate Team Self-Improvement
Organize continuous staff training, orientation and education that is essential to successful team building so that your team can maintain the same level of high-quality service and professionalism.  Other effective forms like "cross functional training" are ways in which team members widen their areas of knowledge to better appreciate the corporate vision.
Show Them The Way
Lead by example. Participate in your team's efforts and show your team how to achieve objectives.  Be their role model of professionalism and customer service.  Insist on similar personal investment in work from your team. In turn, employees give their commitment, take a proactive responsibility, find meaning and true purpose in their work contribution, and build a stronger sense of loyalty. These ultimately influence team output quality levels, drive turn-around time, and overall employee engagement.
To sum up, good teamwork is not just another management jargon but a combination of ideas into a complex whole of sophisticated soft-skill tools that can enable a manager to develop a united professional group capable of desirable results through pooling of creative energies for your organization's gain. We've heard this cliche many times before — there's no "I" in team. Teamwork is more about "we or us." Getting things done with a group of people takes a process-driven and collaborative approach. When each member of a group is able to find and make their own voices heard, and leaders are able to bring out the best in each, results can be achieved in a creative way. Success is definitely sweeter when it's inclusive and shared.
Looking for high caliber executives to strengthen your team?  Look no further than IES, a top executive search firm in the Philippines!  Call us today at +632-551-1843.